Achieving The Impossible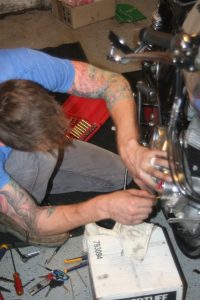 Blake hard at work electrifying the T140 Triton special.
It's been a couple of months since I received the diagnosis that I may not be capable of kickstarting motorcycles any longer. Accepting the vagaries of age and time (not to mention three-plus decades of damage to my foot from doing so) I didn't waste any time learning about my options. For the past couple of years, if not longer, there have been riders looking to convert their kickstart-only British bikes into modern, electric start machines with varying degrees of success. Some companies, like Colorado Norton Works have perfected a brilliant, bolt-on push-button starter for these beloved British parallel twins, and owner Mat Rambow has been generous to toss one our way. CRM's resident Norton guru Nick Coumos has been busy adapting the comprehensive kit to our yellow, 1973 Commando 750, and besides requiring the replacement of some minor components- the stator, battery and a few clutch bits- it appears the bike should be back on the road in just a few days time. It's an interesting commentary on the state of the late 1970s British motorcycle industry that neither Norton, BSA or Triumph could manage to install reliable electric starters on their new bikes, even though Honda, BMW and Harley-Davidson had done so years earlier. That still leaves us to adapt a similar kit to my beloved T140 Triton, though CRM's uncannily talented tech Blake Kelly already has a head start on that job, which is far more complex being as there's no ready-made install kit with professional instructions in existence. Trial and error? Oh hell yes. Stay tuned….