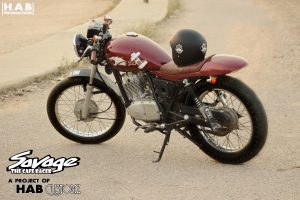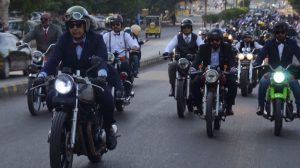 We hear from some faraway riders customizing their bikes into cafe racers all over the globe, but our latest winner is perhaps the most unexpected of all.  22 year-old Hamza Azeem Butt hails from bustling Karachi, Pakistan,  a city with a burgeoning custom retro motorcycle scene. Hamza is well-connected, having helped organize last September's Distinguished Gentlemen's Ride in Karachi, and as you can see from the pics, it was well-attended with all sorts of machines. Hamza's ride of choice is a mildly cafe'd Suzuki GS 150 cc which is being locally manufactured in Pakistan. "No more bike above 150 cc is being manufactured here locally. So this is the max I could get for my custom project," he tells CRM. Working with a budget of just $2,100 and the help of local shops and friends from the area's only custom bike club Throttle Shrottle, he created a sleek, unique custom, the details of the build available on Hamza's blog http://habcustomz.weebly.com/savage-the-cafe-racer
The Suzuki was outfitted with new clip-on handlebars, a wider, 4.00×18″ rear tire, retro-fitted fuel tank and a new seat cowl, plus bold, burgundy metalflake paint and a new, brown leather saddle.
Way to go, and a Cafe Racer magazine prize package is on its way to this cool, inspired Suzuki single rider!