It's been the better part of five years since we completed the comprehensive rebuild of our 1973 Norton Commando and we've nothing but good news to report. The Commando, Norton's last and final production machine is still popular with both restorers and custom Britbike enthusiasts for many reasons. Out machine started life as a raggedy basket case, but through the thorough application of top-end new components, she's become a reliable, exciting daily rider. Add to that the way the custo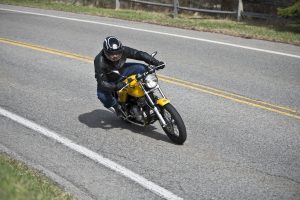 mized 750 turns heads and it's proven a genuine winner, all for about half the cost of a new, 961 Norton Commando. Sure, the 2017 bike is faster (by about 25 MPH with its top speed of 140 MPH) handles a bit sharper (thanks to its Ohlins suspension) but the parts and service back-up for the new Nortons has proven spotty at best.
Closer to home, our Commando starts on the first kick nearly every time thanks to a Tri-Spark Ignition system supplied by our friends at Colorado Norton Works.  The addition of a single, 34mm Mikuni carburetor has also helped make this a more modern-feeling classic as the Sudco-supplied carb provides the perfect amount of air-fuel mixture. Avoid, at all costs the temptation to install twin Mikunis – as we've recently learned on our Triton, they cause far too much air for a middleweight British twin. Lastly, we bolted on a pair of Hagon shocks to aid the rear damping which have proven adept at everything from corner-carving to 200-mile days of touring. Whereas older Norton twins which lack the Commando's vibe-smoothing Isolastic engine mounting system, these motorcycles can be ridden at highway speeds without the classic bike worries about shedding parts or numb hands.  Besides regularly checking the oil and every nut and bolt after a long ride, the Commando is about as maintenance-free as  a 43 year-old motorcycle could be. Readily available on the market in running (if rough) condition for under $6,000, the Norton Commando is a bloody steal!